AAC Awareness Month is here! As always, we are looking forward to seize this opportunity to amplify our efforts to empower people through communication. We've seen in the past year the pivotal role assistive technology and AAC has played in connecting people. This October, we are hoping to pave the way for more meaningful connections and interactions in people with complex communication needs around the globe.
So, we are delighted to announce a FLAT 50% discount on all our apps from October 1st to 15th, 2021.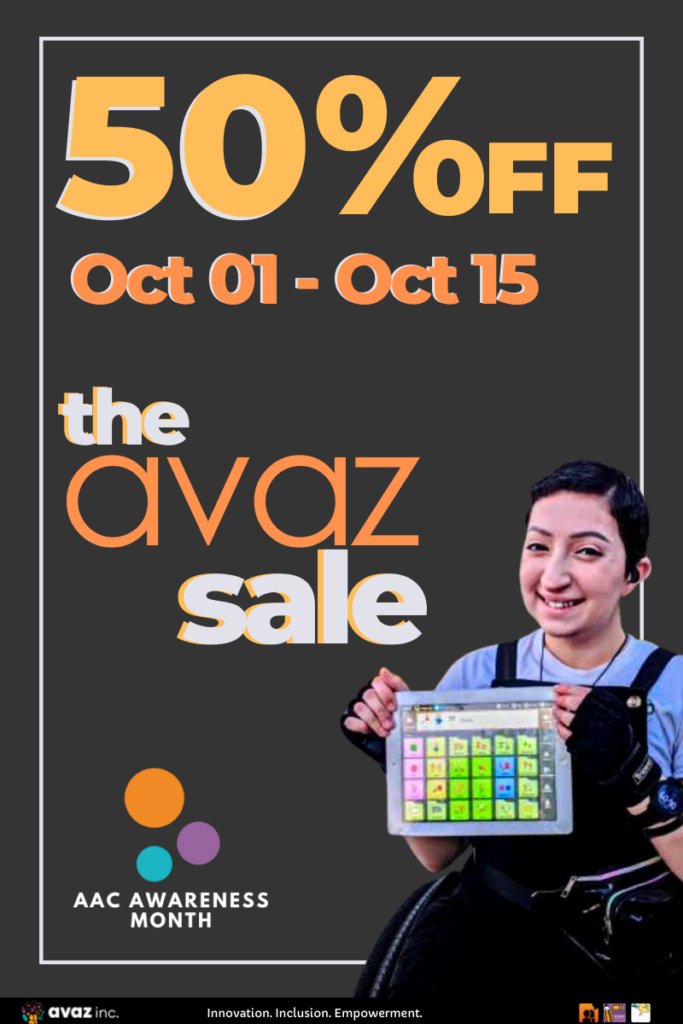 The Discount:
50% off on:
Avaz AAC : An award-winning communication app for users with speech difficulties arising from ASD, Cerebral Palsy, Downs Syndrome, aphasia, apraxia, strokes & more
MDA Avaz Reader : Education app that enables struggling readers become independent readers using research backed strategies.
Avaz FreeSpeech : An education app that makes learning English Grammar fun & easy for children with special needs
Date:
October 1 to 15, 2021
Please Note: The below table shows non-sale price with 10% OFF
Help us Spread the Word
Share this news with loved ones who have been waiting to buy one of our products. Tell that teacher friend of yours who has been eyeing our products for her school.
Queries?
Our Support team is here to assist! Reach us 24×7 at support@avazapp.com
Learn more about our assistive technology products that empowers users through communication and learning: