April is Autism Acceptance Month! Acceptance is seeking to understand the strengths and challenges of individuals on the spectrum. It's about recognizing attitudinal barriers that get in the way of inclusion. Avaz Inc.'s assistive technology products are all about empowering those with special needs and enabling inclusion. We'd like nothing more than to ensure that communication and learning solutions get in the hands of every single individual who needs them.

So, we are happy to announce that we are offering a FLAT 50% DISCOUNT on all Avaz products from April 1 to 15, 2021!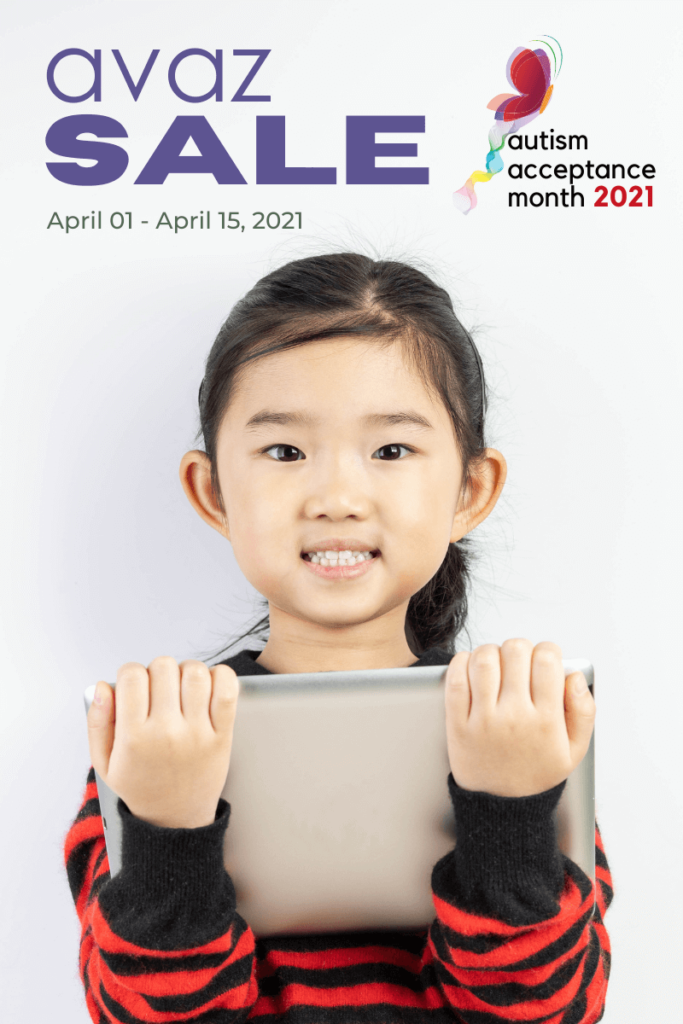 The Discount:
50% off on:
Avaz AAC : An award-winning communication app for users with speech difficulties arising from ASD, Cerebral Palsy, Down Syndrome, aphasia, apraxia, strokes & more
MDA Avaz Reader : Education app that enables struggling readers become independent readers using research backed strategies.
Avaz FreeSpeech : An education app that makes learning English Grammar fun & easy for children with special needs
Please Note: The below table shows non-sale price with 10% OFF
Help us Spread the Word
Share this news with loved ones who have been waiting to buy one of our products. Tell that teacher friend of yours who has been eyeing our products for her school. Or that parent who has been waiting for this discount to give her child a voice.
Queries?
Our Support team is here to assist! Reach us 24×7 at support@avazapp.com
You can also purchase all our products at the App store or at the Play Store
Learn more about our assistive technology products that empowers users with communication and learning: