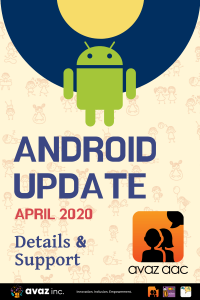 Hello Avaz AAC family! Hope you are healthy and staying safe. These are difficult times, more so for people with special needs. We're glad to bring some cheer amidst the uncertainty around us. We're coming up with an update for Avaz AAC Android with awesome features that give you an improved user experience. 
Here's what's included in our latest update:
New Voices, More Voices:
Avaz Avaz AAC is all about giving a voice to people having complex communication needs. With that aim, AAC will now feature voices from Google! This  gives the user a wider choice of voices. Since Google keeps adding more high quality voices periodically, you'll keep having more voices to choose from 🙂
You can also change other vocal characteristics such as pitch to make the voice sound more nuanced and appropriate for each user. This means that users can choose voices that best match their personalities and individual preferences.
This Android update also gives you access to  regional language text to speech voices like Hindi, Tamil, Telugu, Kannada, Gujarati, Malayalam, Marathi and many more.
Whatsapp Support for Users  and Communication Partners
It's no secret that proficiency of communication partners has a huge role in the AAC learning of a user. We understand that beginning communicators and their communication partners may need consistent support to get comfortable with the AAC system. To facilitate this, we are planning to send AAC resources regularly over Whatsapp once you opt in for it. Since Whatsapp is an easier medium to reach AAC users, we are hopeful that more AAC users and caregivers will benefit from receiving AAC resources including mini tutorials, how-tos, and more.
Now, you can reach out to us over WhatsApp. You can send us quick queries about app features, customization, ways to use Avaz AAC, personalization options etc. This is just another way we can support you in your AAC journey.
Why Google Voices? 
We are switching to Google voices  because our previous voice provider Ivona no longer supports voices for Android. 
It was a tough decision for us to make and rest assured we considered all options before making this switch. Google voices was chosen for quality and affordability. All other alternatives would have made Avaz AAC unaffordable for a majority of our users – and that would have been very unfair to many kids waiting for a voice.
The switch to Google voices  means that some voices like Raveena / Ivy / Justin / Sally will no longer be available on Avaz AAC for Android.
Adjusting to New Voices
In case you use one of the voices that is no longer supported, we completely understand that the voice change might be a challenge. This might be the case especially for the child who is already used to a particular voice. We are extending this advance information to enable you to prepare for this change and to accordingly prepare your child too. 
As always, we are here to support you! 
Here are some tips for you to help the user prep for the voice change if applicable to them –
TIP 1
As a trial, start by changing the voice in your current app to see how your child is responding to the change. Do this in regular intervals to gradually set expectations for the voice change. 
How to switch or change voice in your current app –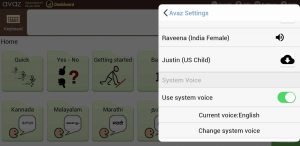 You can change the voice by going to settings and tapping on the Change system voice option. Please note that at present you will be taken to the device settings to change voice. Once you download the update for Avaz AAC Android, you can make these changes from within the app. 
Tap on 'Language' to choose a voice.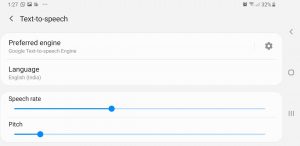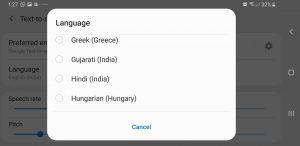 TIP 2
Talk to your child about the upcoming change. Using a social story to talk about this will go a long way in explaining it to them. Here's one example of a social story you can use to do this –
How to Retain the Old Voices
After attempting to prepare your child, if you still think your child will not be able to handle the change, there is a way in which you can retain the old voices. 
Please note – We DO NOT recommend this, but if you see no other way out, you can try this method:
Turn off auto-update in your Play store. This will let you retain the original voices. This also means that you will not get any further app updates or  new features. 
Android apps downloaded from the Google Play Store are automatically updated by default.To turn off auto-update, follow these steps:
Open the Google Play Store on your Android device.

Tap the Search Box at the top of the Play Store.

Enter the name of the app and tap Search.

Tap on the app to open the listing.

Tap the three-dot overflow menu in the top right-hand corner.

Click to deselect the checkbox next to Enable auto update.
Once you configure these settings, the app will no longer automatically update. If you have any questions or concerns, you can always reach out to us at support@avazapp.com. Please know that we'll do our best to make this transition smooth for everyone.
What to Expect in Future Updates:
Sharing Vocabulary
Avaz users can soon share vocabulary folders with other Avaz users. This means that if you have created a very useful folder of words, you can share it with others directly from within Avaz AAC itself! Teachers and therapists can share folders and words with parents too! Plus, vocabulary can be shared via WhatsApp as well.
Your constructive feedback and suggestions have steered our efforts towards refining our apps. With your continued support, we are determined to include more features that make communication effortless with Avaz AAC.