Since 2020, we have had to adapt to a changing world. We were pushed to rise up and meet some of the unique challenges of the times. In that context, 2022 is an important year for us. This year we envision the efforts of the past two years culminating in breaking new ground at Avaz.
None of this would have been possible without your support. We are excited to share with you our vision for 2022.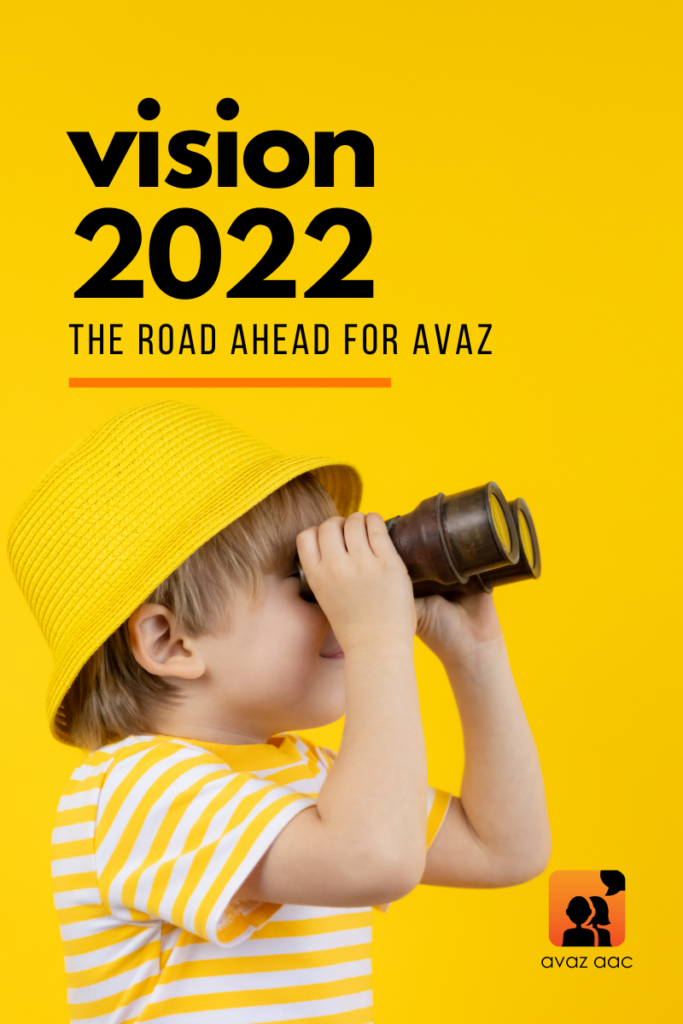 Avaz Across Languages, Geographies
In line with our vision to make every voice heard, we will be launching language support for Spanish, Italian and German. We aim to release at least 10 different languages this year.
We are always open to adding new languages to Avaz. If you are interested in collaborating with us, do drop us a note at narayananr@avazapp.com.
Avaz Empowering Professionals
In order to increase awareness of AAC amongst professionals in India, we have launched the Avaz Certified AAC professional (ACAP) course. Thanks to this effort, families in India now have access to 120 Avaz certified professionals who can support them to chart their child's communication journey. We will be listing them on our website soon.
Presently this course is available only in English. We are interested in translating our course and providing this certification for AAC professionals around the world. So, reach out to us if you would like to customize this course in a language of your choice.
Product Updates to Avaz in 2022
1. Access
We are redesigning our Avaz app to support easier switch access and eye gaze access.
A very common request is for eye tracking support. We are currently working with partners and will be launching a version of Avaz that will support eye tracking devices.
We are also working to make improvements to Switch and Touch access on the app. So stay tuned for more on that front.
2. Enabling Faster Communication
We will be adding support for larger vocabulary grid sizes on Avaz. Communicators can start at a larger grid size and slowly discover more vocabulary without any adverse effect on their motor planning.
We also have a few exciting updates that will enable faster communication via the Avaz keyboard. One of our favorite features – Load & Save messages, is getting an overhaul. Communicators will now be able to group their messages for easier retrieval.
2. Support for new Devices
Avaz is currently available on all iOS and Android devices – be it a phone or a tablet. We will be launching a version for the Windows desktop this year.
Since Windows has great support for eye tracking, this launch will be a game changer for many Avaz users requiring these supports.
3. New and regular feature updates
We will be adding support for larger vocabulary sizes, richer keyboard features, revamping our visual design and making it even faster to customize Avaz.
Our engineering team has relaid the foundations of the app which enables us to deliver faster updates to all our customers.
We have list of customer requests and improvements that we planned for this year. Keep an eye out for major and minor updates this year. If you are interested in suggesting an improvement or trying a beta version, drop us a note at support@avazapp.com.
Government Partnerships
We supplied the Tamil Nadu government with 500 Avaz devices. We are looking to partner with more governments to help with inclusive education set up
---
With so many new and wonderful additions planned for the rest of 2022, we look forward to bringing you the Best AAC experience possible 🙂