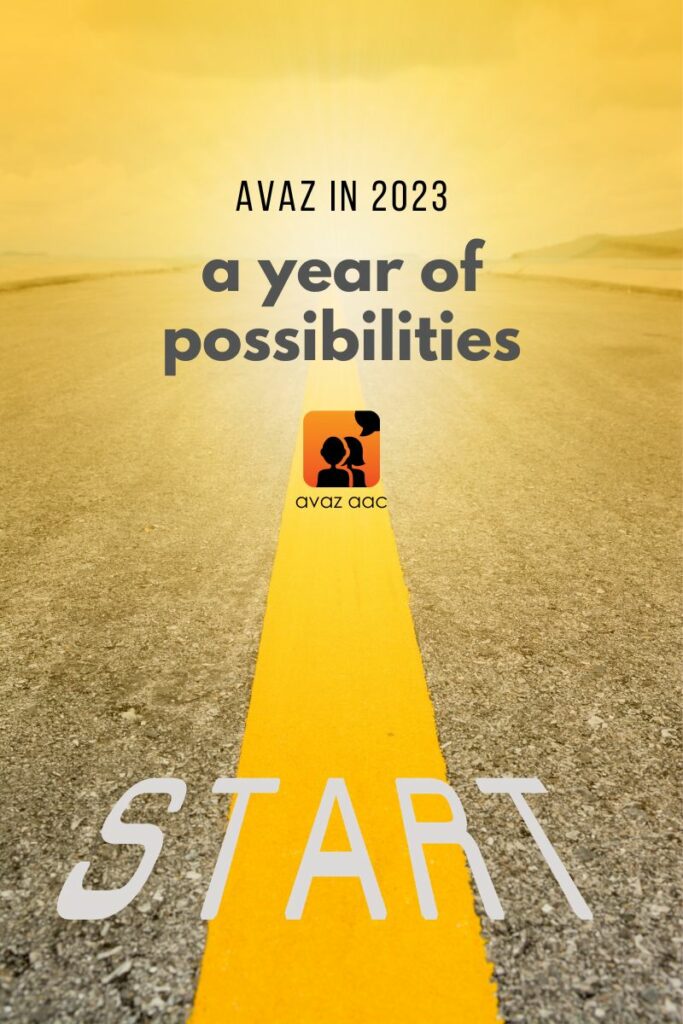 A new year, a fresh burst of energy! 2023 brings with it 365 days of possibilities. In this blog we give you a low down of all that we planned for you this year at Avaz.
Avaz is Raring to Go!
As we enter a new year, it's natural to wonder what the future holds. At Avaz, 2023 holds many exciting developments on the horizon. The past year has provided us with many successes and opportunities for growth. We aim to carry forward that momentum into the new year – and bring you the very best in AAC. Let's explore the potential for the future together.
AAC meets Machine Learning & AI
The pace of technological advancement has been rapid in recent years. Given this trend, it's not surprising that the intersection of AAC and Artificial Intelligence (AI) has garnered significant attention.
ATIA (Assistive Technology Industry Association) is an organization that conducts conferences every year to showcase the assistive technology (AT) industry. It also acts as a platform to advocate for the needs of individuals with disabilities. These efforts ensure that high-quality products and services are available to meet the needs of people with disabilities.
This year, Avaz will participate in ATIA Conference from January 23, 2023 at Orlando, Florida. This year we will explore the potential of AI in the flavor of three themes: Expression, Companion, and Language Expander. Our goal is to revolutionize the field of Augmentative and Alternative Communication (AAC) with our technologies. To this end, we are actively seeking out innovative solutions to improve the efficiency of AAC. We look forward to sharing our insights and ideas at the conference.
Adding More Diversity
Bilingual Offerings
We are working on a feature that enables users to communicate in a combination of their native language and another language of their choice. Our goal is to make vocabulary learning more enjoyable and accessible for all users.
More Languages!
At Avaz, we are constantly working on ways to design AAC solutions that meet the diverse needs of our users.
We are excited to announce that we will be introducing a plethora of options with a focus on celebrating diversity. This includes new languages, new voices, and new features that will allow users to customize communication to suit their lived experience.
We will be releasing  three new languages this year: Italian, German, and Spanish. We are always open to collaborating to add more languages. If you are interested in collaborating with us on a new language in Avaz, drop us a mail at collaborate@avazapp.com
Empowering Autistic & Aphasic Adults
In another exciting development, we are enhancing the Avaz App Keyboard to enable faster communication. This is part of our ongoing efforts to provide better support for autistic adults and aphasic individuals.
We are incorporating features like abbreviation expansions to enable communication in just a few taps. This feature will automatically convert abbreviated text into full sentences. For example: "NP" will be auto-expanded to "No Problem".
This feature will enable users to communicate without delay and convey their thoughts easily. Not to mention, it makes the use of full and rich language a real possibility.
Switch Scanning & Eye Tracking in Avaz
We are working on improvements within Avaz to enable users with motor impairment navigate faster and communicate efficiently.
As part of these endeavors, we are working on Scanning features within Avaz. These can be used with switch access by the user to choose items from the selection set. Additionally, we are also working on more eye-tracking integrations.
These include features that track the movement of the user's eyes and translate them into commands or selections within the app. For example, a user will be able to use eye tracking to choose an item on a menu or select a word to speak. Eye tracking can be a helpful feature for individuals with severe physical disabilities and complex communication needs.
Avaz is coming to Windows!
This year, we will be bringing Avaz AAC to Windows!
With this development, Avaz AAC can be used on all Windows devices. The Windows version will also have Eye-Tracking Integrations to cater to our users needs.
This is great news for adult AAC users and those with acquired disabilities. Plus, AAC use at the workplace will become a great deal easier!
Exploring GLP Specific Features
Many children on the autism spectrum are Gestalt Language Processors. An AAC system optimized to their specific language learning needs may be just the thing they need to communicate.
Our team is currently working on developing features that will make Avaz AAC more suitable for use by Gestalt Language Processors. These features will be developed with the needs of GLPs in mind. 
---
Here's to a healthy, happy, and prosperous new year! Thank you for reading and for showing us your support over the past year. We can't wait to see what the future holds and hope you'll continue to join us on this journey 🙂