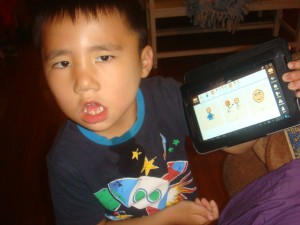 While interacting in conferences, support groups and online forums, we're more likely to run into moms rather than dads (Autism Daddy is a notable exception) – but this Father's Day is a good time to thank all those awesome, amazing dads out there – for the incredible things they do for their kids, and for the amazing support they provide for moms.
As SLPs and speech-language techs, we are sometimes guilty of looking too deeply on the 'how' and the 'how much' of communication, and too little on the 'why' and the 'who'. Nearly every heart-warming story we've heard about Avaz and AAC usage is a beautiful interaction that happens between a parent and a kid. Whether it's a kid expressing a food preference for the very first time to their parent, or seeing the awesomeness of the big smile of a kid who's just got something they love by asking for it with AAC, or just sharing an emotion or a feeling.
5-year-old Theo is using Avaz to say something that we want to say, too: "Daddy, I love you, love you."
Or, like Theo, sharing love and expressing thanks on a special occasion. Theo's mom, Cathy, says, "Theo just loves to use Avaz to send a message to his mummy and daddy!" And we love him back, too. That one little sentence said with an AAC aid – "Daddy, I love you" – keeps us motivated to keep trying, on a journey that can seem endless and endlessly frustrating at times, but which we all know is worth every bit of effort we can expend on it.
In honour of all those wonderful dads of kids with special needs out there – and especially little Theo's dad – we're giving 50% off on Avaz around Father's Day. Get the word out, and share the love!