The United Nations is focusing on inclusive education as the theme for World Autism Day 2022. This blog explores what inclusive education looks like in the context of autistic learners.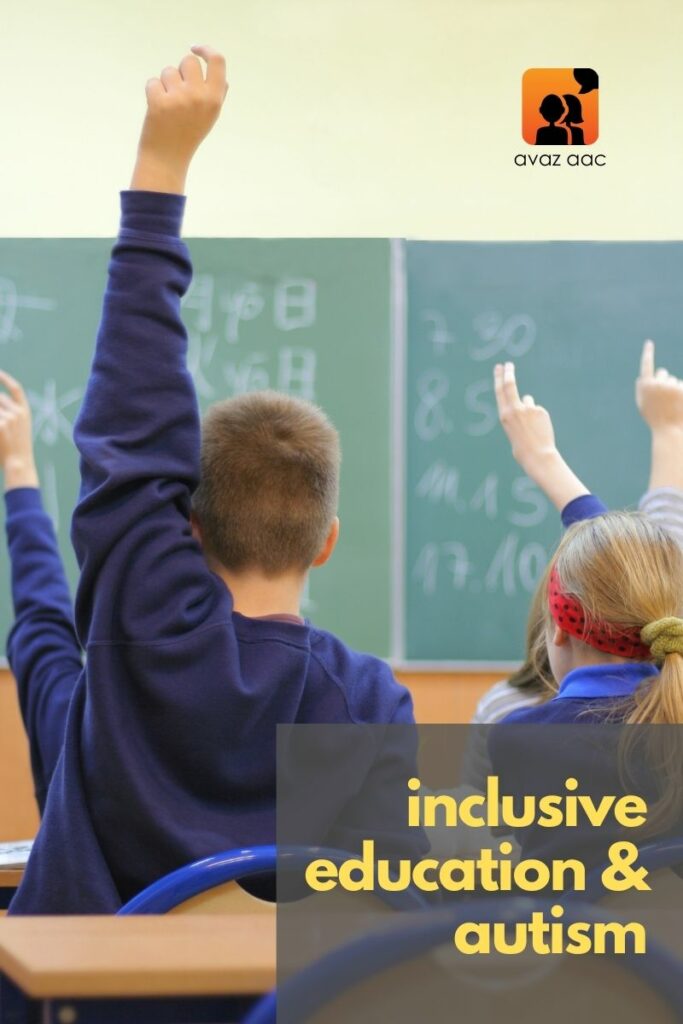 Inclusive Education Makes a Difference!
Inclusion does not simply require enrolling a child with special needs in a "normal" school.
A traditional school with a set curriculum may not be the best place for a child with disabilities. It may not enable them to develop their interests and learn at their pace. Inclusive education refers to providing more options. It involves structuring institutions in a particular way so that all students, including those with special needs, can learn effectively.
Inclusive Education for Autistic Learners
Each student on the autism spectrum has specific learning, social, and communication needs.  Autistic students need an environment where they can listen and learn from interacting with others to gain social skills. Educators must observe the learner in the inclusive classroom in order to determine what types of services they will need. Academic supports can be planned accordingly.
Students with autism may struggle in school because they feel uncomfortable, unsafe, or even fearful there. Providing a suitable learning environment is crucial. It is as important as any instructional technique or educational tool in ensuring a student's success. Students with autism will study best in environments where they may relax and feel safe.
To begin with, teachers need to review how classroom areas are designed. This will help to establish conditions that are most conducive to learning for kids with autism and their neurotypical peers. 
Inclusive Classrooms for Autistic Learners
So what are the things that need to be kept in mind while making classrooms inclusive? Here is a basic list-
Understanding the learners' needs
Ensure suitable adaptations to the course materials and routines
Simplified communication
Minimizing sensory overload
Inclusive education takes teamwork and is a shared duty for the entire institution. It is vital to encourage learners to explore different engagement methods. This goes hand in hand with providing assistance in decision making and empowering them to set their own goals.
Understanding SEN (Special Education Needs)
Special Educational Needs refer to learning challenges or disabilities that make it difficult for children to learn. Children with Special Educational Needs (SEN) are more likely to require additional or unique assistance than other children their age. Special educational provision is the term for this level of support. Autistic learners benefit greatly from SEN supports.
Some of the concerns that special educational provisions address, include:
Inability to socialize. Ex: They find it hard to make friends.
Difficulty in reading and writing arising from dyslexia.
Inability to analyze and interpret things.
Cognition issues due to ADHD.
Difficulties due to hearing or visual impairments.
It is fundamental to remember that every individual with SEN has the right to a detailed, balanced, and effective education.
Summary: Education is for all
In recent times, access to improved assessment services has increased. Thanks to this, we now know that approximately 1 in 88 children are on the autism spectrum. Educators are now addressing core characteristics and emphasizing the need for improved care.
The 'one size fits all' is not the best teaching philosophy when it comes to inclusive education. Instead, educators would be better apply the principle of 'each child is unique'. Redesigning curriculums, teaching approaches, and having activity based learning can help disabled and neurodiverse students.
Although we advocate inclusion, it should not be utilized to substitute specialized instruction, specifically for students who require more assistance or who have serious disabilities. Greater, customized special education can have a significant impact on how children with autism function in the future. Inclusive education in the true sense means providing an opportunity and an environment for the learners to function at full potential with assistance to support their needs. After all, Education is for all.