Yay to Us! We made it through a tough year and now it's time to celebrate ourselves and those around us for showing real character while facing many challenges.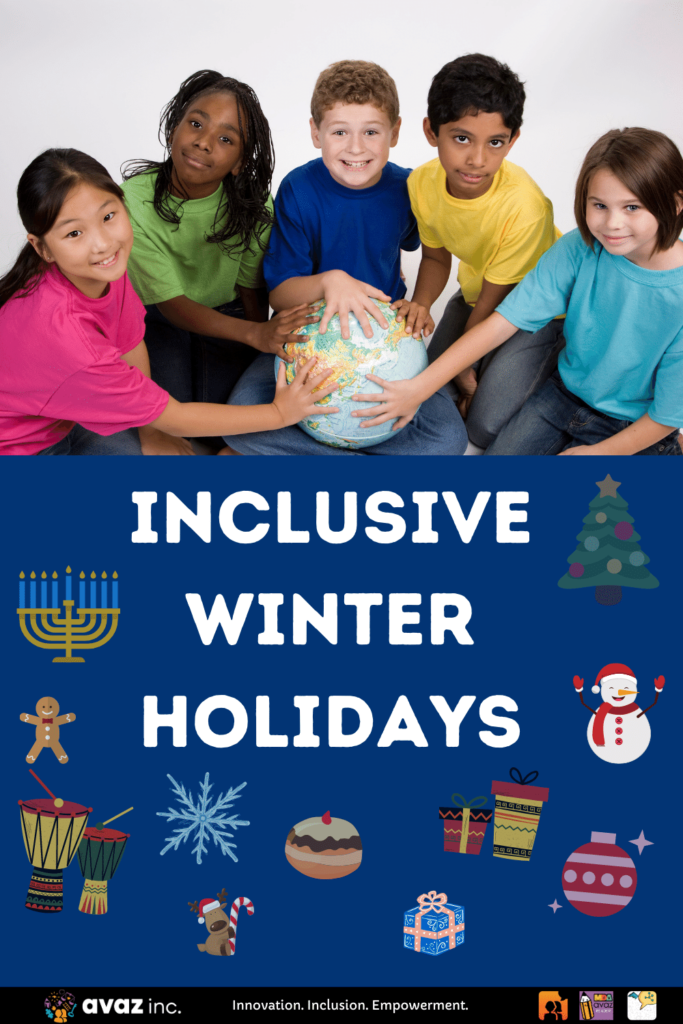 The holidays are here, folks! Time for family, friends, and fun. You really don't need to plan activities to make holidays enjoyable. Just lazing around and spending family time would do. But if activities can hype up the fun, why not plan a few?
Christmas, Hanukkah, Three Kings Day, Winter Solstice, St. Nicholas Day, Kwanzaa – no matter what holiday you celebrate, here are a few fun and inclusive ideas to keep the holiday buzz up for young children of all abilities:
Holiday Celebrations Around the World
The earlier children become aware of the diversity in society, the more responsible citizens they become. In this activity, we can talk about different holidays that are celebrated in different parts of the world. This will be a nice way to expose them to different cultures, customs, and religions.
Videos and visuals help children understand the different holiday traditions followed by people across the globe. So, just play youtube videos talking about diversity and watch them with children. This gives an excellent opportunity to talk about how to be respectful of other cultures and to embrace & celebrate differences.
This video talks about winter celebrations around the world
Here's a fun video talking about 12 Winter Holidays from Around the World
Holiday Read-Aloud
No holiday is too cool for reading, right? Want to switch up your bedtime reading routine? Just get on YouTube and sit back while masterful storytellers read interesting children's books.
Engaging music, colourful visuals, and great narration – there's a lot to love about these read-alouds. Pause the video to draw the child's attention to the characters and important events in the story to help with comprehension.
Pick stories that interest the child. If you want to talk about diversity and inclusivity, choose books that have characters of different races, regions and religions.
Here's a read-aloud of the interesting 'How to Catch an Elf' book
Make Up Your Own Game
Encourage children to come up with their own game ideas. All ideas will be given their due respect even if it means that the whole family has to hop like a kangaroo with a party hat on.
It will be fascinating to see how little minds work when there are no rules that cramp their creativity. This will also be a nice way to show kids how much we value their ideas.
This activity can help children with special needs come up with brilliant ideas that kids of all abilities can play. For example, when a child who uses AAC designs a game, they may be mindful of accommodating the complex communication needs of players. So, this can serve as a way for us to understand their world and abilities better.
Help children build the game by making boards or game pieces with them. Indulge them by playing the game as a family. Creating their own game and having others play it helps in boosting their self-esteem. This can also end up giving some cool, unique games that families will cherish for years to come.
Hope you enjoyed reading this blog about inclusive ways to celebrate the winter holidays. If you have any ideas/feedback/suggestions, please share them in the comment section below. We'd love to hear from you 😍