Learn more about our exciting collaboration with Rug-Ed – and how you can participate in a very REWARDING webinar!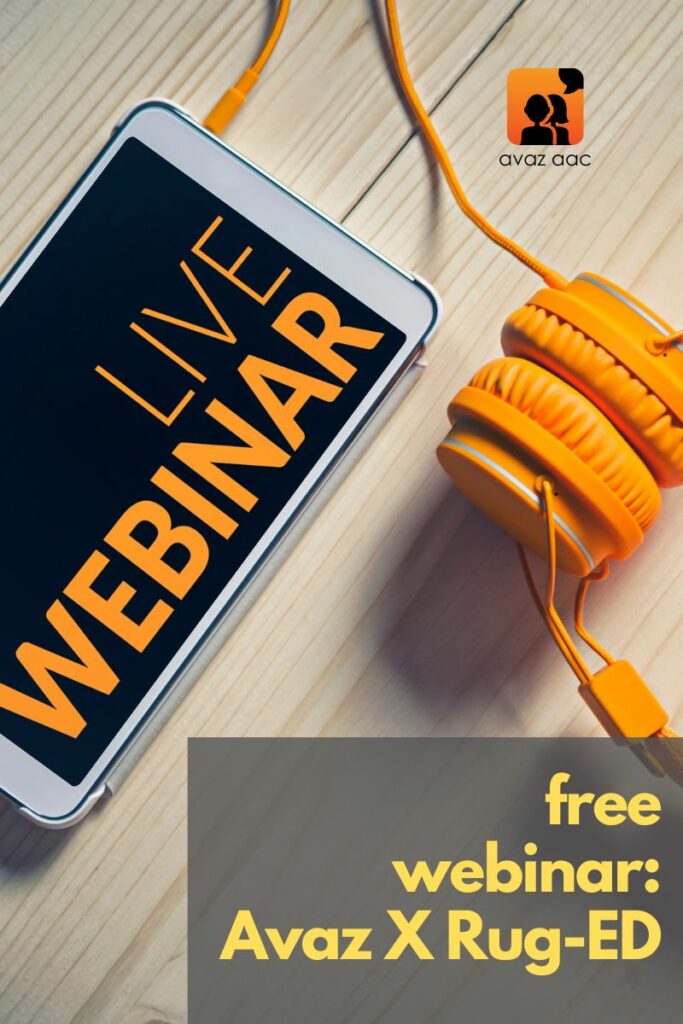 About Rug-Ed
Rug-Ed was launched in 2012 to manufacture protective, ergonomic, and durable cases for electronic devices. The goal of the business was to provide a solution to extend the durability of devices in classrooms and homes. Their cases were designed to provide protection against accidental drops, bumps, and scratches. The intricately crafted designs were made to inspire learning and encourage creative expression.
The Collaboration!
Strongly rooted in K-12 education, Rug-Ed strives to be more than a product business. Thanks to this, Rug-Ed is growing into a community of educators, learners, creators and innovators.
Avaz AAC, a communication and learning app designed for individuals with complex communication & speech delays shares similar goals with Rug-Ed when it comes to inspiring learning and encouraging creative expressions.
Our shared goals have allowed us to collaborate with great success. To showcase the partnership, we are conducting a webinar with Rug-Ed to learn about AAC (Augmentative & Alternative Communication) and debunk popular AAC myths.
Join Avaz and Rug-Ed on Saturday, September 24 at 11 am EST (8.30 pm, IST) for a 1-hour webinar on the topic of AAC. This will be followed by a live Q&A with Avaz's Director of Community Relations and Rug-Ed's Director of Business Development.
Your Takeaways from the Webinar
This a webinar you do not want to miss! We will be discussing a whole host of interesting topics AND answering your questions 🙂 Here is what you will go back with after the webinar –
Greater knowledge of AAC.
An overview of Avaz's picture-based AAC app.
Resources for K-12 schools and Non-profit Organizations interested in AAC-affirming tools.
Exclusive discounts. (Shipping charges apply)
The opportunity to network with the global AAC community.
The Grand Giveaway!
All webinar attendees will receive exclusive discounts. Upon registration, attendees will be entered into the Grand Giveaway 🙂 One lucky attendee will receive the items below:
9 Early Literacy & Core Vocabulary Books created by a High School & Kindergarten SLP.
30 min. Consultation with AAC Speech Therapist.
Sentence Strips Visual Supports with Preschool SLP.
Mega Bundle STEM Snack Pack.
We look forward to seeing you there 🙂