School closures or not, we are always looking for meaningful ways to engage children. Stories and books, especially give a fantastic way to keep children occupied – because young minds get stimulated while reading about the wonderful world around us and all the fascinating made-up worlds.
Why Need a Digital Reading Buddy?
The joy of reading can be further enhanced with a reading buddy. One who helps children with those unfamiliar words. One who can show them how to pronounce words, and teach them about syllables and more. Children tend to skip lines when they come across a new word and this may lead to inadequate comprehension. Parents can read with children but that can limit their reading time. Avaz Reader is a research-based reading app which can guide your kids on their reading journey everywhere, all the time. The foremost benefit of reading with Avaz Reader is that your kid will become an independent reader in no time. The app comes with captivating stories and new stories are added every week!
Read the Sniffles Story with Reader
There's a virus going around. What are viruses and what do they do? Divya got the sniffles but she didn't want to miss the game. Her team won the cup but not everyone's celebrating now. Why? Should Divya have missed her game rather than playing it while she had the sniffles. Read this interesting story on Avaz Reader.
Download a free trial of Avaz Reader for iOS I Android here.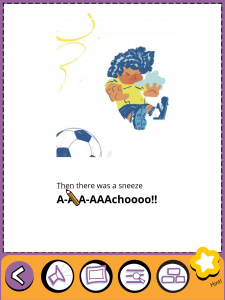 Here's the host of reading supports your child gets while reading this story.  
1.Picture Hint
2.Syllable Hint
3.Prefix/Suffix Hint
4.Rhyming Hint
5.Pronounciation Hint
6.Audio Hint
7.Comprehension Tool
8.Focus Mode
9.Finger Tracking
You can also take a photo of any text, be it a textbook, magazine, or storybook and read it with Avaz Reader. This means that you child gets all the reading help they want for their academic excellence too 🎓. Hope you and your family has fun reading books with Avaz Reader. Keep reading because there are more exiting books coming your way !!