When AAC is fully integrated into everyday activities, learning AAC can become easier for the communicator. Especially, when everyone in the AAC user's life is using it, it presents more opportunities for AAC learning. As the most familiar people to the AAC user, families play a major role in this integration. The best way is to get involved early in the intervention process and start using AAC at home as much as possible.
All Aboard
Get the whole family involved. It might be the immediate family you live with i.e. parents and siblings or grandparents who live down the road. This can also mean the communicator's favourite aunt and uncle who call them over video on the weekends. It might be challenging to get everyone convinced and ready to communicate with AAC. But once you try it, there is no looking back.
AAC Ideas for Home
So, you can incorporate AAC into any family activity that you might do at home. Here are some ideas to get you started:
Silly Fun
If the communicator likes telling jokes, you can load in some knock-knock jokes or funny one-liners into the AAC device and entertain everyone at dinner time.
Grandparents are the family genies who grant wishes. So, you can support your AAC user to ask for that favourite car ride "WANT CAR RIDE" or even ask for a favourite toy for an upcoming birthday " WANT TRAIN SET".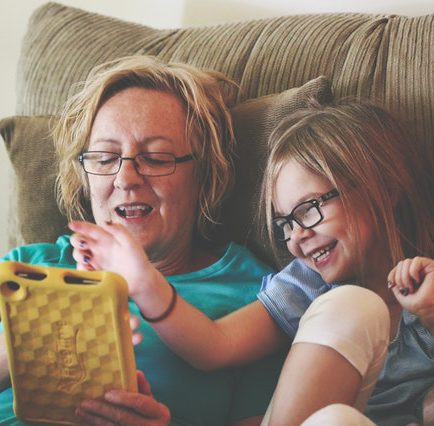 Watching Videos
If the siblings like to watch movies or YouTube videos together, then this would be a great chance to talk with AAC. You could comment on the video "Oh that car looks so GOOD or WOW that trick is so COOL". Model descriptive words on the AAC system and encourage the sibling to do so too.
Family game night
Family game night is another opportunity to use AAC. Whether you are playing a board game like Pictionary or charades or even a virtual quiz, lots of opportunities to model .You can talk about whose TURN it is, whether someone is about to WIN or LOSE and also if you suspect someone is CHEATING.
Video Calls
And now with the pandemic situation, we have many video calls with family and friends. You can support your AAC user to use AAC during a video call too. Make sure to turn the Volume to High and let the conversation begin.
"HI, HOW ARE YOU TODAY?"
The communicator can use pre-stored phrases for greeting and start the conversation.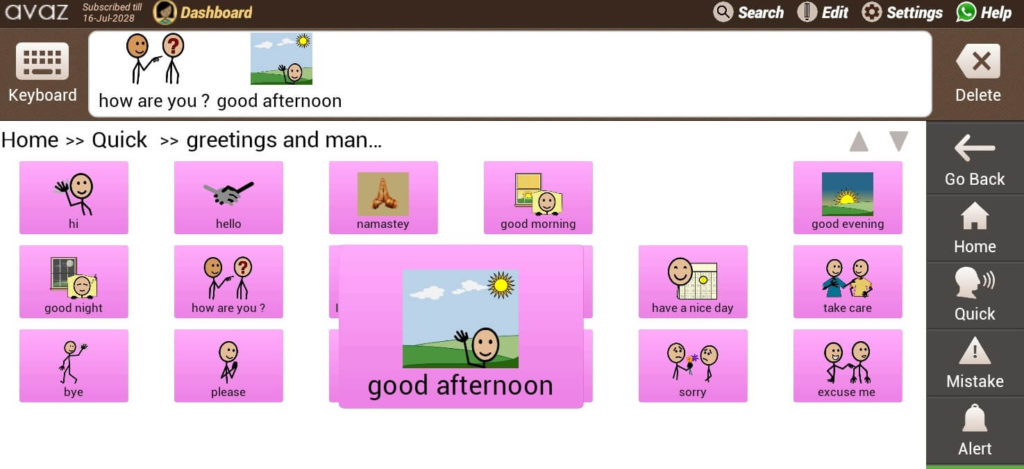 Music and Dance
Plan a fun song and dance party at home. Pre-load some of the songs that you listen to as a family. Everyone uses AAC to request for the next song to boogie to. "PLAY DESPACITO".
Photo Album
Fish out those old photo albums and start practising some describing skills. When you are looking at those old photographs together, you can talk about how "CUTE" the kids looked. Or how "FUNNY" that dress was or how "BEAUTIFUL" that place was.
Siblings also may share secrets, maybe about how 'BORING' it is to do household chores or "let us plan a SURPRISE party for mum". So, getting siblings to use AAC to share those top-secret thoughts can be a great way to motivate AAC use.
Family and AAC
Start exploring the AAC device as a family and support your AAC user to express themselves at home. Sometimes I see that families only notice how much their child is capable of, once they start using the AAC device at home. Your children can surprise you with their capability to communicate independently. The more they use AAC at home, they can learn to communicate with others around them too.
It may be difficult to teach each family member the ins and outs of using AAC at home but remember your speech therapist is there to support you with this process. You can always ask for help to get everyone in your family on board with AAC use and for ideas on how to practice.
So families, get ready, get set and start talking (with AAC)!
WRITTEN BY
Nayantara Nambiar, MSP, BASLP
Speech Language Pathologist

Trained in India and Australia, I am passionate about supporting people with communication and swallowing difficulties. Equipped with experience in Rehabilitation, School and Early Intervention settings, I strive to provide a holistic intervention approach tailor-made for my clients and their families.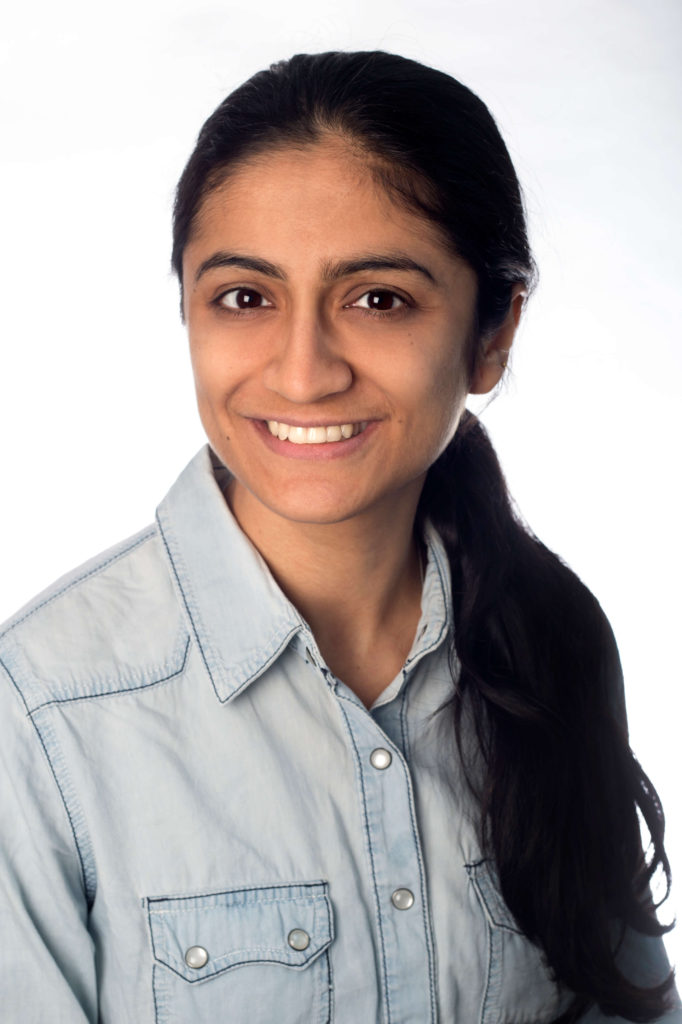 References:
https://praacticalaac.org/video/video-of-the-week-aac-modeling-at-home/ https://praacticalaac.org/praactical/faces-of-aac-making-it-work-in-a-busy-family/
https://leader.pubs.asha.org/do/10.1044/getting-family-buy-in-for-aac/full/